Nothing can hold me back from my passion of enjoying Hard Dance events mannn
Previous week I went down to Singapore and spent 24 HOURS there
AWAKE
Just to catch the BAXX boys and LISA LASHES doing their Hardstyle shit
AND I GOTTA SAY, I NEED THE HARDSTYLE MOOD EVERY WEEKEND.
SO here's how i spent my weekend after craving for more HARD BASS KICKIN'
I drove down south ALONE yeahh. FREEDOM was all I needed and ALL I GOT WAS FREEDOM!
Karpe-DM from PHD and the Dark Ravers boys were gonna bring down the haus at JB Discovery and HELL NO I was gonna miss it. ITS FRIGGIN PHD MAN
*recaps PHD encounters in 2007*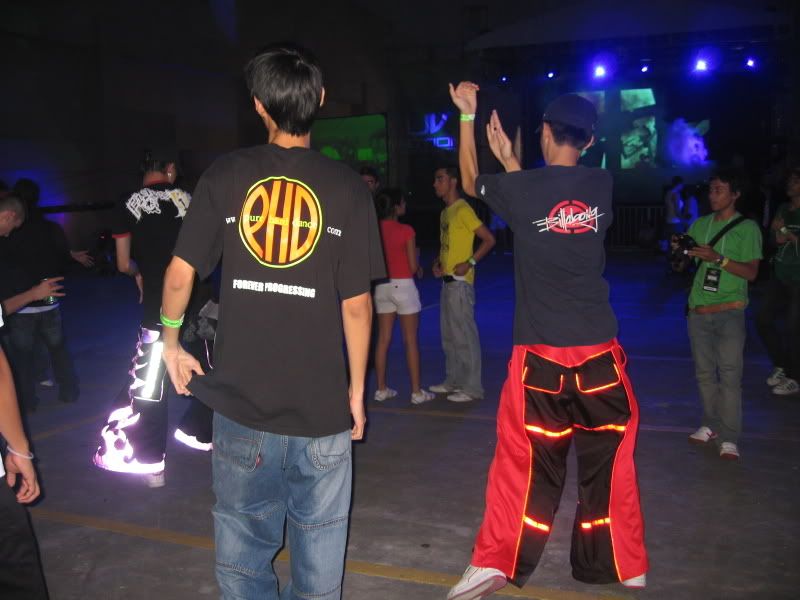 Yes i was once raving with a guy in a PHD tee which used to be so powderful!
Back to my journey. Going down alone, I had the urge to go earlier to check out the setup
And boy was it looking A.W.E.S.O.M.E.
Being a HARDCORE hardstyle lover I HAD to get there as early as the event BEGUN
That was when the DarkRavers boys were warming up JB Discovery
I remember hearing a whole load of heart THUMPING tracks from these buggers. I LOVE THEM!
Electro Slut
Expansion Overload
Silence (i was friggin singing along okayy " in this whiteway i am sinking in this SILENCEEE")
etc etc etc...
DJ Learn & DJ Drive - DARKRAVERS yay
AND THE CHERRY ON TOP OF THE CAKE WAS.....
NONE OTHER THAN KARPE-DM from Kangarooland.
THE PIC DESCRIBES IT ALL.
And I on the other hand, was dancing NON-STOP till I forgot to take more pics.
BUT WHAT THE HECK? I ENJOYED. I DANCED. I ACHIEVED FREEDOM!
FREEDOM 360 YEAH! I LOVE YOU. So in other to show my love, Im gonna try be at ALL of each FREEDOM 360 parties yeahhh, SEE YOU PARTY PEEPS THERE!
more info at
www.freedom360.net
LETS GO